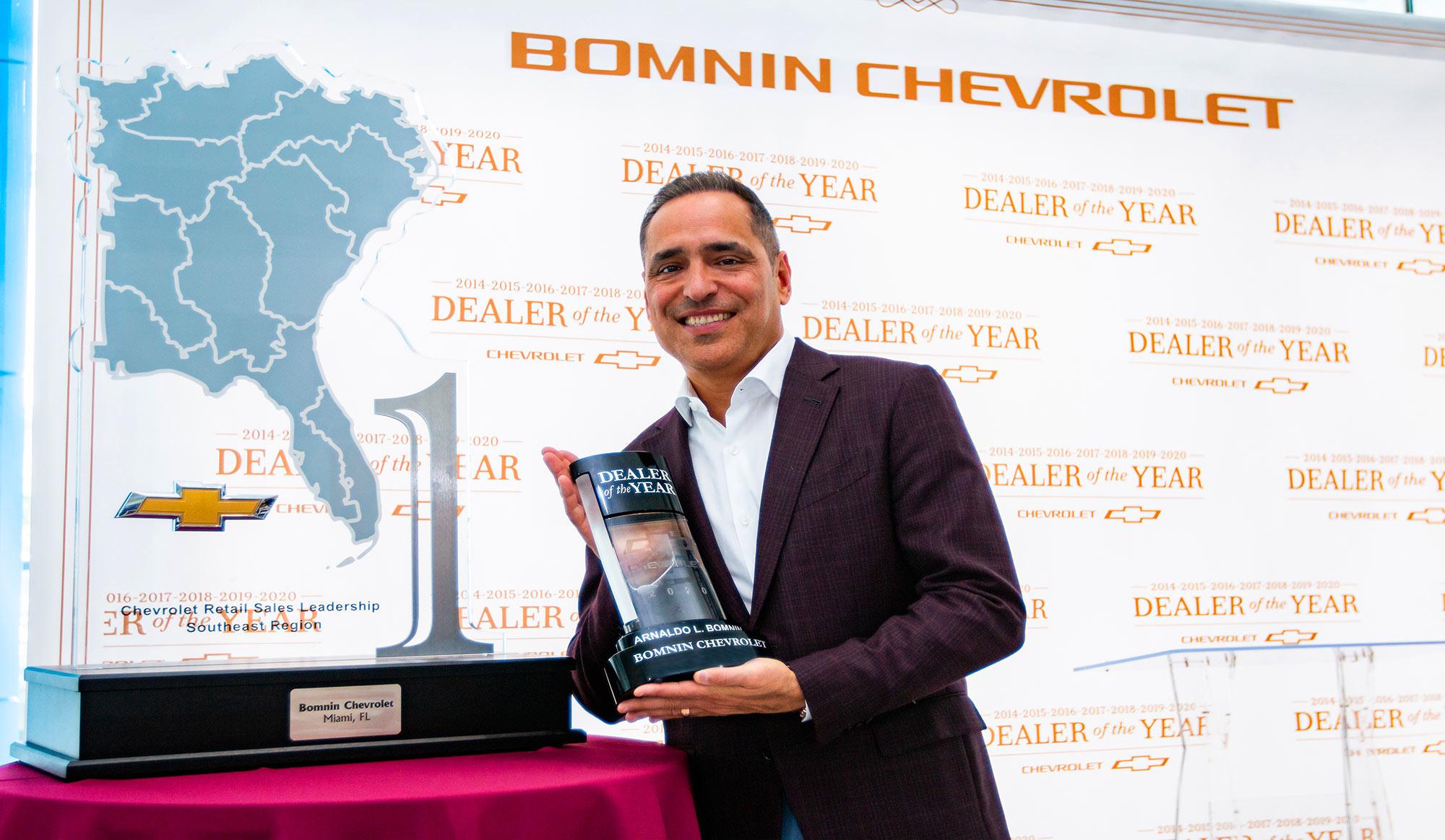 ARNALDO BOMNIN AND THE AMERICAN DREAM
ARNALDO BOMNIN AND THE AMERICAN DREAM
When Arnaldo Bomnin fled Cuba to immigrate to America in 1996, he had nothing but a gold watch and three gold rings to his name. He had no money in his pocket and could not speak English. Now, Arnaldo owns Bomnin Automotive Group, consisting of Bomnin Chevrolet Dadeland, Bomnin Chevrolet West Kendall, Bomnin Cadillac Chevrolet Homestead, Bomnin Mitsubishi, and Bomnin Volvo Cars Dadeland, all located in the Miami, Florida metro market, as well as Bomnin Chevrolet Manassas, in Manassas VA - a total of seven franchises under six rooftops.
His story is the true American dream; the kind every immigrant aspires to one day tell their child. It all began when he made the decision to leave his home in Cuba, in the process leaving behind his family and a successful career as a medical doctor. Upon moving to the United States, Arnaldo began landscaping and selling lobster on the streets of Miami. One day, while selling lobster at a Miami dealership, the General Manager observed his extraordinary sales skills and offered him the opportunity of a lifetime as a sales associate, and the rest is history.
From there on out, Arnaldo's story was one of success and prosperity. He immediately became the salesman of the month and held the title for 15 consecutive months, exceeding the dealership's goals month after month. In August of 2000, Arnaldo was promoted to Sales Manager of a Chevrolet dealership in Miami, FL, and then promoted again to General Sales Manager in 2005. By 2007, he received another incredible opportunity and was made General Manager of a Chevrolet store. Shortly after he took the reins as General Manager, the country would fall into the longest recession since World War II, the Great Recession. While some in his position might have panicked, Arnaldo wasn't the type to fear a challenge. Instead, he perceived a golden opportunity could be ahead and decided to make his boldest move yet. In 2010, Arnaldo began working tirelessly to make his ultimate dream come true: owning his own car dealership.
After years of excellence in his career and a track record of success, Chevrolet knew of Arnaldo's potential and believed in him. On November 10, 2010, Arnaldo Bomnin acquired a dealership formerly known as Kendall Chevrolet. The small, outdated dealership was selling about 76 vehicles per month until Arnaldo took the reins and transformed it into one of the most successful dealerships in the country. The dealership reopened its doors as Bomnin Chevrolet Dadeland in November of 2013, and celebrated the grand opening of a brand-new 39,000 square-foot facility in the heart of Miami. Since then, Bomnin Chevrolet Dadeland has gone on to revolutionize the automotive market in South Florida.
Bomnin Chevrolet Dadeland was the #1 Chevrolet dealership in the Southeast Region of the United States for five consecutive years (2016 - 2020) and ranked #2 in the Southeast and the United States during 2021. The Dadeland store has also been the leading Chevrolet dealer in the country on multiple occasions, while always ranking amongst the top 5 volume Chevrolet dealerships nationally. Bomnin Chevrolet Dadeland has been awarded the prestigious Chevrolet Dealer of the Year Award eight consecutive years, 2014 - 2021.
On November 30th, 2016 Arnaldo acquired Grand Prize Chevrolet in Miami Florida, at which time the dealership was selling 230 vehicles per month. Renamed Bomnin Chevrolet West Kendall, the dealership sold 356 vehicles the very first month in business. Since then, the West Kendall dealership has ranked amongst the largest new vehicle retailers in South Florida, and a frequent top 5 Chevrolet volume dealer nationally. During 2021, the dealership overtook Bomnin Dadeland to become the #1 Chevrolet dealer in world, an incredible feat considering it resides a mere eight miles from the Dadeland location. Bomnin Chevrolet West Kendall has been awarded with the prestigious Chevrolet Dealer of the Year Award five consecutive years 2017-2021.
In 2018, another opportunity knocked on the door, this time in the Mid-Atlantic region of the country, and Arnaldo welcomed it with open arms. On April 10th, 2018 he acquired a Chevrolet dealership and opened the doors for business in the Washington D.C. metro market as Bomnin Chevrolet Manassas, bringing unparalleled work ethic, customer care and success to the capital. In less than a year, it became the largest Chevrolet dealership in Virginia, Washington D.C. and Maryland, ranking #30 in the nation and in 2019 earned Chevrolet's coveted Mark of Excellence award.
Continuing with Bomnin's vision of expansion, he acquired his fourth dealership overall, and third in South Florida, with the October 2019 acquisition of what would become Bomnin Cadillac Chevrolet Homestead. The new, state of the art building, completed what management refers to as the "Bomnin Triangle," being that the Dadeland and West Kendall Chevrolet stores are just a few miles away. Bomnin Cadillac Chevrolet Homestead in Homestead, FL is Bomnin's first dual Cadillac and Chevrolet dealership.
While 2020 started with promise, along with the February addition of a Mitsubishi dealership on its West Kendall campus, it soon became known as one of the most uncertain periods in recent American and global history. Marred by the COVID 19 pandemic, and the toll it took on many lives from a health and economic perspective, Arnaldo remained steadfast and grounded in his commitment to continue providing gainful employment to all Bomnin Automotive associates.
Remaining committed to excellence, and growth, he added his seventh franchise with the acquisition of a Volvo dealership in November 2020. While outsiders may have been surprised, it came as no surprise to the Bomnin Automotive team when Bomnin Volvo took off during 2021, its first full year in business, and finished as the largest volume Volvo dealer in the country. Bomnin Volvo ranked as the #1 volume dealer in the nation nearly every month, and sold more than 17% more New Volvos during 2021 than the nation's #2 Volvo dealer.
Arnaldo has long had a vision of being able to give back to the South Florida and the Miami-Dade metro market that embraced him many years ago, and he has fulfilled many of his hearts desires by giving back to several local charitable organizations. Not to mention, Arnaldo takes great pride in working side by side with the 600 associates employed by Bomnin Automotive Group. Whether it's helping residents of communities find gainful and meaningful employment, or donating a vehicle to a local family in need, Arnaldo finds nothing more rewarding than being a pillar of the community.
The story of Arnaldo Bomnin and how the Bomnin Automotive Group came to be is inspirational for all those who aspire to obtain the American Dream. The team at our dealerships in Miami and Manassas strive every day to inspire others and lead by example. Our tag line, "Committed to Excellence," is about more than just our business, it is about how we treat our associates and customers on a daily basis. After all, as Arnaldo says, "We sell cars, but our passion is giving back to the community."
IN THE NEWS:
Arnaldo Bomnin was interviewed and featured in many national news stories this year following the death of Fidel Castro. Bomnin celebrated Cuba one step closer to a free society by offering customers up to $15,000 off the MSRP of new cars, trucks and SUVs."I was fortunate enough to make it to America and accomplish the American dream, and my hope is that one day Cubans will be able to experience the same freedoms there," he said when announcing the special.
Read more about Arnaldo Bomnin here: